With you for life
Compassionate care, emotional support and informative resources today, tomorrow and for life.
Our Locations About Us
The professional team at Moriah Behavioral Health is fully committed to our clients and their loved ones. We provide compassionate care, emotional support and informative resources today, tomorrow and for life.
Moriah Behavioral Health has comprehensive evidence-based treatment provided by a multidisciplinary team of professionals.
Our Programs
We offer two separate and distinct programs: teen mental health treatment for teens and eating disorders for females. To ensure each person receives the appropriate treatment.
Both programs offer several levels of care and treat co-occurring and underlying issues. A client can enter our program at any level, then transition to another if more or less support is needed — every step is taken according to individual needs.
Mood & Anxiety Treatment
Mood disorders like anxiety, depression, OCD, trauma related disorders and other conditions, are complex that are treatable with the right care. Mood disorders can manifest in many ways that can impact you or a loved one from living their life to the fullest.
Eating Disorder Treatment
Eating disorders are complex, psychiatric conditions that impact the mind and body. They are not a choice and can control lives, but are treatable. They can affect people of all genders, ages, races, religions, ethnicities, sexual orientations, body shapes and sizes.
We Accept All Major Insurances
Don't See Your Insurance Listed?
That's not a problem.
"The staff really cares about you and the patient to staff ratio is unbelievable…They were always there for us and we had so much fun in the pool together and taking outings! And a special thank you to Brittany and Jennifer for working with my insurance to get me into the program! If your looking for residential treatment id highly recommend!"
"The people I met here were truly amazing and memorable. Also, it did wonders for my recovery and others around me."
"It was a great treatment center and staff were nice. Its a good time and gives time for kids to still do school and its very open and welcoming there."
"I felt very supported while my child was at RTC. Communication with staff was quick and clear. I saw a lot of growth in my child after his stay."
Connecting While Your Teen is in Treatment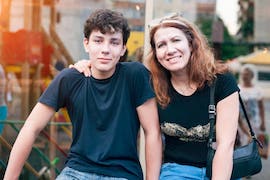 Connecting While Your Teen is in Treatment
Having a child in treatment can be an isolating and lonely experience for many parents. While the child is away in residential care, the family does its best to carry on with daily life. Moriah Behavioral Health wants to bridge that gap by bringing the family close to the program and fostering a connection and a sense of community.
Self-Diagnosed on Social Media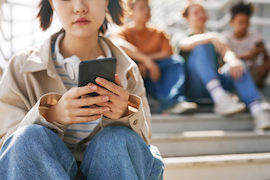 Self-Diagnosed on Social Media
We've all done it at some point – looked up our relatively mild symptoms on WebMD and found at least five potentially life-threatening diseases that could be the cause. Nine times out of ten, it's just heartburn, or mild skin irritation, or some other benign condition that will clear up on its own. But, at the time, it sure was scary falling down that rabbit hole of self-diagnosis.
Teens, Trauma and Trust
"Trust is one of the greatest gifts that can be given to a teen who is overcoming PTSD- trust in themselves to be a responsible caretaker of their own bodies, and trust in the world to shine a positive light on them." – Shantara Howell, Therapist at Moriah Behavioral Health